Your dog will love synthetic grass since it's just like natural grass. Whether they roll, lay, walk or sit on the grass it will feel better than natural grass to them. You may believe "natural grass is the best kind of grass," but artificial grass provides you with a more comfortable lawn to stand on and less itchy lawn to sit on with family and friends.
Synthetic Grass is Just Like Natural Grass
Artificial grass is the best selection for its relaxing and tender feel. The blades of synthetic varieties mimic the movement of natural grass. It will also compress into a soft cushion feel when your dog lays or rolls around on it. The soft texture feeling through the pet's fur will combine and feel just like natural grass.
No Harsh Chemicals
With the new technology for artificial grass there will be no need for any harmful chemicals like pesticide or weed killer. Synthetic grass will also keep its colour for many hours in direct sunlight. After weed killers and fertilisers are applied to the soil of real grass, children and pets have to avoid the lawn afraid of chemicals getting on their shoes or clothes and causing harm to the skin.
A Clean House
Dogs with thick, long hair can pick up many types of lawn debris such as small bits of dirt, small sticks, grass clippings, dust, seeds and dead grass. These outdoor particles can be brought into your home and make a mess everywhere. When on false grass no sticks, grass clippings, dust, dirt or dead grass can be picked up in your dog's fur. This means smaller amounts of allergens will be brought into your home.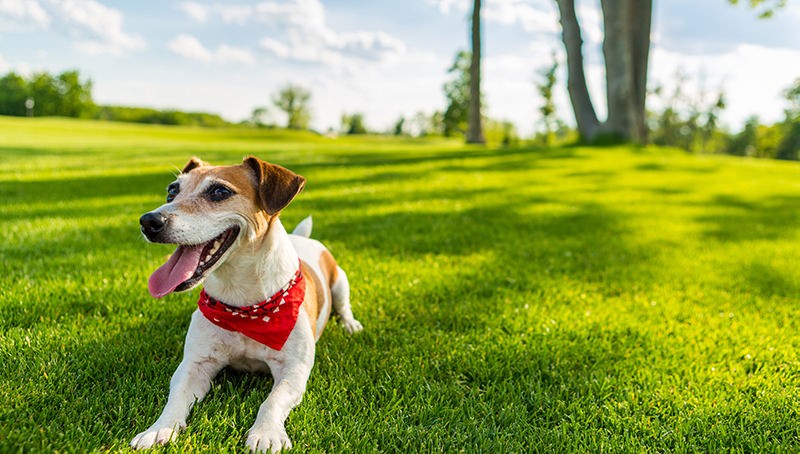 Never Too Tall for Short Pets
Short dogs such as Bichon Frise, Bolognese dog and Boston Terrier often struggle to manoeuvre around in tall grass. Artificial grass doesn't grow and therefore remains the same height. The normal height of synthetic grass is from 1 ¾ to 2 ½ inches tall which is the perfect height for small dogs.
Mud Free!
The biggest advantage of an artificial lawn is its installation. Once your natural lawn is substituted there is very diminutive amounts of mud or dust that will make its way to the surface and into your house. Even with rainfall mud is still unable to rise to the surface and create mud pools in your lawn. After a downpour of water, your dogs can still run around outside and refrain from having muddy paws. Meaning no more cleaning up after your dog!