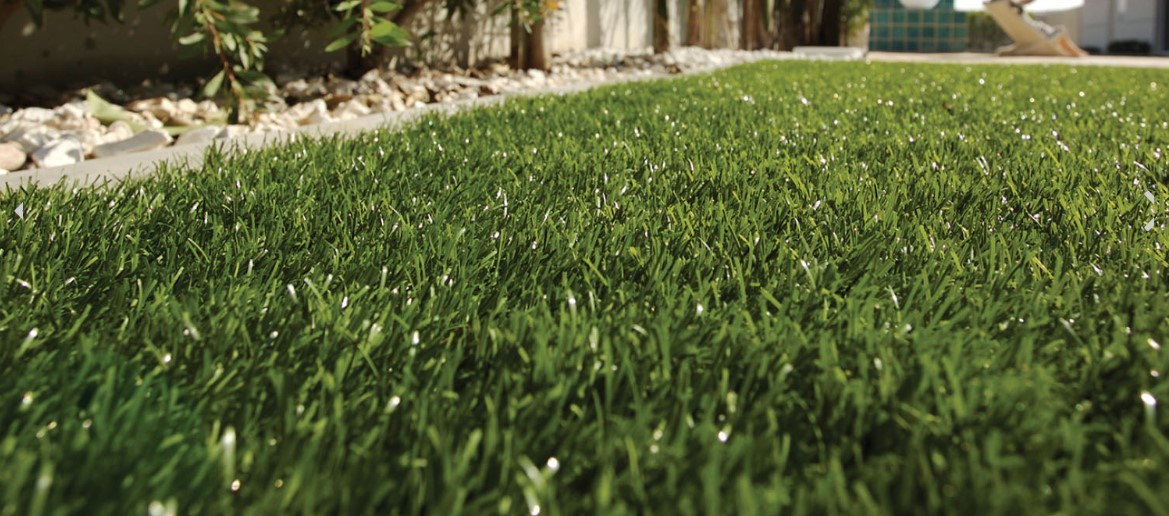 Artificial Grass made in Melbourne
SYNLawn is the only manufacturer in Australia who produces premium quality artificial grass in Melbourne and synthetic sporting turf derived from Australian Made yarn. Our fake grass is made right here in Melbourne from renewable resources and are the most technologically-advanced turfs on the market.
Whether you are after pet-friendly, a backyard putting-green, a hybrid grass or the most environmentally-friendly synthetic grass in Australia, we have a huge range of premium artificial grass suitable for residential and commercial use. Our products and systems are all designed to accommodate and withstand all Melbourne weather conditions.
Many people ask what do you put under artificial grass? We recommend laying a crushed rock/road base and compacting it with a vibrating plate. This will get the best results and allow you to get the most out of your hiqh quality SYNLawn fake turf. Our installation page has more information on this.
We offer fast delivery & can arrange installation via our network of certified installation professionals throughout Melbourne and Victoria.
Our SYNLawn Synthetic Grass Range
Australia Wide
Delivery
Australian
Made
Easy
Installation
Direct from
Manufacturer
Tradies
Welcome
Made for the
Australian Sun
Why choose SYNLawn Artificial Grass?
There are several reasons to use SYNLawn as your artificial grass provider in Melbourne.
Made In Australia
All SYNLawn fake grass products are proudly Made in Australia by APT Asia Pacific in Melbourne. APT Asia Pacific is the only manufacturing plant in Australia that makes synthetic turf yarn. APT yarns have inbuilt proprietary features not found in any other yarns. They are purpose suited to Australasian conditions, manufactured with ISO quality assurance, and proven by continuous testing.
Australian Manufacturer Warranty
All SYNLawn synthetic turf products come with a standard Manufacturer's Warranty of up to 15 years (depending on the product). Our Warranty protects customers against issues such as ultraviolet degradation and fibre loss.
Coolplus® technology
All SYNLawn artificial grass products feature proprietary infrared reflective COOLplus sports yarn technology, which reduces the surface temperature by 10-20% compared to competitor products.
Child-safe
SYNLawn artificial grass is free of unsafe chemicals and is soft to touch and play on. We specialise in supplying and installing artificial grass for schools, childcare centres and playgrounds.
Superior Drainage
Let it rain (and we know it does in Melbourne)! Water (or any other liquid) drains right through our surfaces at a rate of 2000mm per hour. The punch hole system on the backing of our synthetic turf surfaces quickly allows water to pass through the pile into the ground below, preventing growth of mould and bacteria.
Pet-Friendly
All of our fake grass products are safe and pet-friendly. Soft under paw, toxic-free and incredibly durable, they are designed to withstand even the most active of pets! Our safe odour-eliminating infill and spray system keeps unpleasant pet waste and ammonia smells under control.
Find your nearest certified Installation Professional in Melbourne
Installing SYNLawn artificial grass can be an easy and fun DIY project. By following our installation instructions you can create a beautiful, low-maintenance and environmentally-friendly landscape that you enjoy all year round.
However, if you are not confident at installing the grass yourself or your installation area is greater than 25sqm, we highly recommend using a SYNLawn Certified Installation Professional. Large installations can be very labour-intensive and often require specialised skills. Contact Us via our online form or call 1300 796 529 to find your nearest Installation Professional in Melbourne.
Our Melbourne head office is located at:
Factory 3, Dunlopillo Drive, Dandenong South VIC 3175
Or you can call us on 1300 796 529