COOLplus® Technology
Feel the difference with our exclusive COOLplus® Technology, designed to lower the rising temperature of artificial grass by up to 20% compared to other grasses without COOLplus.
Scientifically proven, our proprietary COOLplus Technology reflects sunlight, thus reducing heat build-up and emissivity.
Sunlight is comprised of a wide spectrum of radiation including visible light, UV radiation and infrared. Infrared radiation causes molecular vibration, which translates into heat energy when it is absorbed by an object. Our COOLplus Technology does not absorb infrared rays, resulting in less molecular vibration and cooler surface temperatures. Studies show surface temperatures of grasses with COOLplus Technology are consistently 10-20% lower than artificial grasses without it (see below thermal images).
Other added benefits of our COOLplus Technology is that it reduces the typical glossy sheen of artificial grass fibres, and is softer to touch and less abrasive than other artificial grasses.
For a difference you can see…
SYNLawn artificial grass with COOLplus™ Technology also adds a finish to each grass fibre that has less 'shine', is softer to touch and less abrasive than other artificial grass for a more realistic look you can see and feel.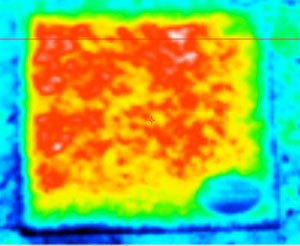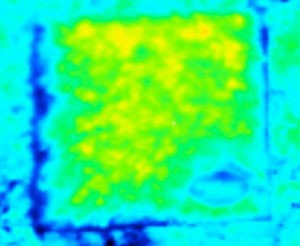 Images shown demonstrate the difference in surface temperature when COOLplus Technology is used vs when it is not. Left image is SYNLawn grass without COOLplus Technology. Right image is SYNLawn grass with COOLplus Technology.
Thermal images of SYNLawn grass captured with Fluke Ti20 Thermal Imager. Images are captured with calibrated temperature data in a matrix of over 12,000 discrete measurements per thermal image.